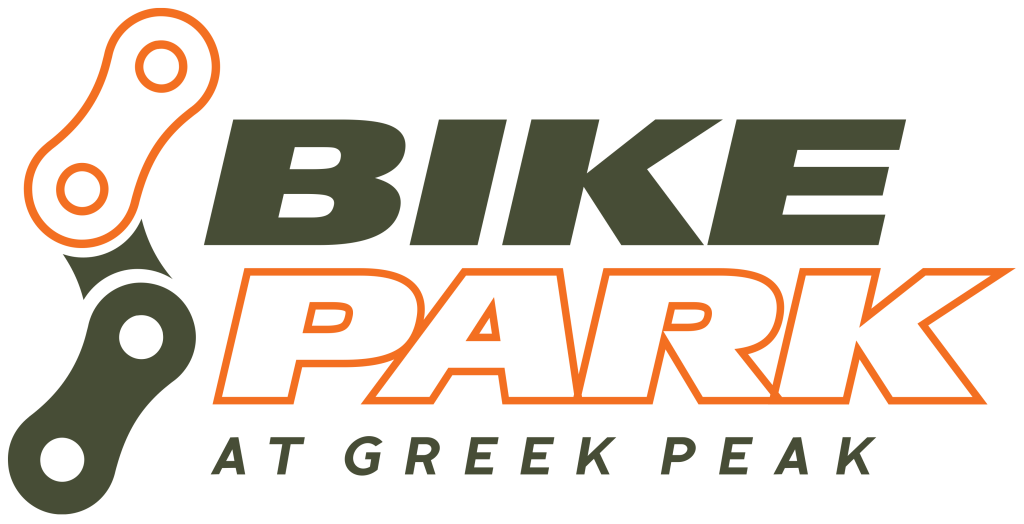 Mountain Biking at Greek Peak
There is no greater thrill than Downhill Mountain Biking at Greek Peak's Bike Park! With 18 different trails (and counting!), the Bike Park has a full day's worth of fun for all skill levels. The Visions Quad chairlift will bring you and your bike to the top of the mountain in no time.

Bike Park trails vary in difficulty level, rated Green, Blue, Black & Double Black as ski & ride trails do during the winter season. Green trails are scenic & less steep to cater to folks just starting out in the sport. Blue trails are for more intermediate riders who want to challenge themselves through more technical terrain & take on small features. Black & Double Black trails are for Expert riders looking to take on much more technical riding, large jumps, wooden features, gaps, etc.
Friday tickets are $35 each, and $40 each on weekends. Season passes are only $315!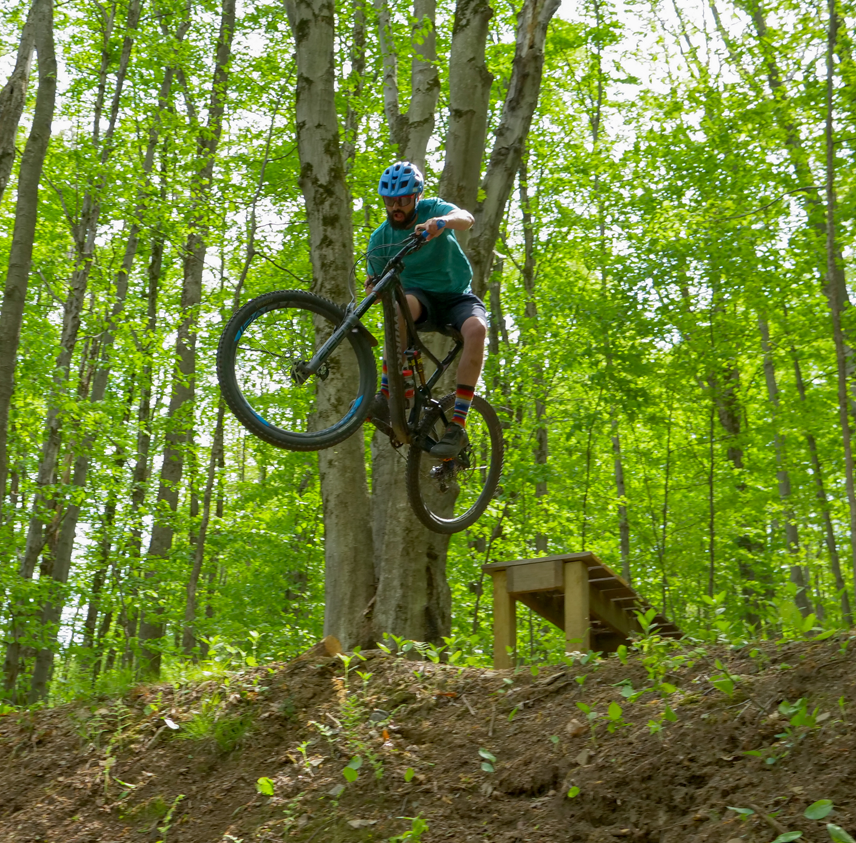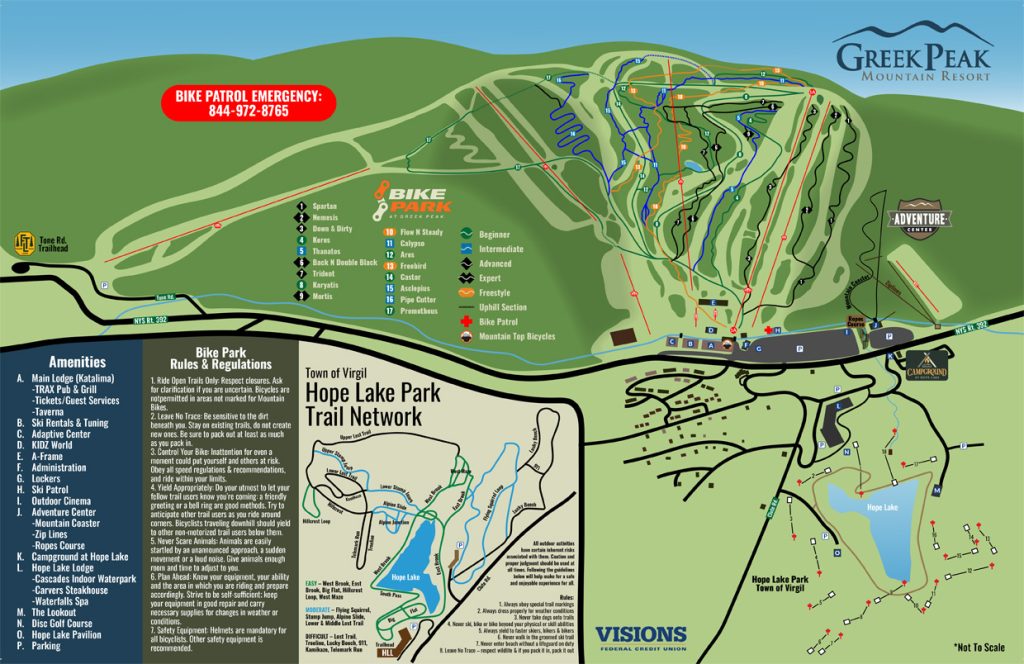 The Trails
GREEN CIRCLE – EASIER
Gentle riding with obstacles such as gravel, roots, rocks, potholes & bridges. Must have ridden a bicycle before.
– Ares, Castor, Karyatis, Keres, Prometheus
BLUE SQUARE – INTERMEDIATE
Challenging riding with steep slopes and/or obstacles possibly on narrow trails with man-made objects & features. These include, but are not limited to: jumps, ramps, roots, rocks & other terrain variations. Must be a competent mountain bike rider.
– Asclepius, Calypso, Freebird, Labyrinth, Pipe Cutter, Thanatos
BLACK DIAMOND – DIFFICULT
Difficult riding with a mixture of long steep descents, loose trail surfaces, numerous natural & man-made obstacles & features. These include, but are not limited to: jumps, ramps, elevated features, gaps, drops, rocks & other terrain variations. Must have advanced bike handling skills.
– Down N' Dirty, Flow N' Steady, Spartan, Trident
DOUBLE BLACK DIAMOND – EXPERT
Highly difficult riding. Some elements that will be encountered include man-made & natural jumps & obstacles, wood ramps, elevated narrow trails, drops, rock faces & other difficult terrain variations. Expert mountain bikers with very advanced bicycle handling skills only.
– Back N' Double Black, Mortis, Nemesis
A few things to help you adrenaline seekers have an enjoyable visit:
Helmets required, full face helmets highly recommended
Full suspension bikes are highly recommended
E-bikes are permitted in the form of "pedal-assist" only
– Bikes with a throttle are not allowed
Pre-ride & re-ride before you free-ride all trails
Ride within your ability level
Do not take rest breaks in the middle of the trail
Child carriers, trailers, etc. are not permitted
Hiking is not permitted on the mountain
Uphill traffic is not permitted
Outside of operating hours, the mountain is a restricted area
Lessons (2024 availability TBD)
Fridays at 5pm | Saturday 11am | Sunday 11am
$30/person (1hr session)
Not quite ready to go all in? Schedule a lesson with a member of our team! Lessons are conducted daily & cover beginner basics such as body position, speed control, braking technique, etc. to help boost your confidence before tackling the trails. Lessons are approximately 1 hr long. Reservations are required at least 24h in advance to account for instructor assignments. Please arrive early for check in.
Forget your helmet? Bike out of commission? No worries, we've got you covered! Equipment is available for rental at the base of the mountain including Full Suspension Downhill Mountain Bikes and Full Face Helmets as well as knee & elbow padding. Rentals are provided by our friends at Mountain Top Bicycles and are available on a first-come, first-served basis. Please arrive early to secure your ride for the day!  MTB Base Camp also offers mechanic service (rates and services vary) to get you back on the mountain & offers a variety of retail items for sale!
*On Fridays, Mountain Top Bicycles will open at 4pm
Downhill Bike Rentals
$120/day + tax
Full Face Helmet
$20/day + tax
Knee Pads/Elbow Pads/Body Armor
Rates vary
ASSUMPTION OF RISK (2023 forms required)
Recreation Assumption of Risk required for participation. Please complete one form for each person per season. Participants under 18 years old require Parent/Guardian signature. SkyTour & MTB Access are all covered under the same waiver.
If picking up your 2023-24 Ski Area Season Pass to take advantage of the Bike Park access benefit, please also complete the Season Pass Assumption of Risk
All current State & Federal COVID Regulations apply for all visitors.
Cross-Country Mountain Bike Rental Prices
If you are not ready to take on the Bike Park's downhill trails, Greek Peak's network of cross-country trails is great for both intermediate and advanced riders looking to get off the beaten path. Ascend through the forest of beautiful Central New York at Hope Lake Park on meandering scenic trails that will get your heart pumping and keep you biking for hours
Cross-Country mountain bikes are available to rent at the Adventure Center 1856 NYS Route 392 from mid-April to mid-October. See Hours of Operation for specific details. These are not available for use at the Downhill Mountain Bike Park. Visit the Adventure Center page for more information
Cross-Country Biking is not available on the mountain at any time
INCLEMENT WEATHER/CANCELLATION POLICY
The Bike Park is an outdoor facility and will operate as usual in rain and shine. However, we may be required to delay or shut down operations due to high winds, thunder, lightning, or other dangerous weather conditions. Guests will be safely returned to the base building to wait for conditions to clear up.
If the area is closed completely for the remainder of the business day or if the delay lasts more than 1 hour, the following can be considered:
No refunds will be issued
Rain checks can be issued at the discretion of the Manager on Duty depending on how much of a given activity was completed
The same policy applies if you are dissatisfied with the conditions of the Bike Park
In the event you wish to cancel a reservation (aka pre-purchased tickets), a rain check valid for one year will be issued for the equivalent pass(es). Refunds will not be granted.