Tuning & Repairs
The performance of your skis and snowboards can deteriorate over time if they are not properly tuned. This is where the Greek Peak Tuning and Repair Department comes into the picture! Our Tuning shop features all top of the line Wintersteiger ski and snowboard tuning equipment to meet the highest levels of servicing for your equipment. Our trained staff can get your skis or board back in shape, and performing like new! If you are unsure about what your equipment may need, we can recommend the perfect tune for your needs. Stop on in!
Call us with questions: 888-393-5907 or email: tuningandrepair@greekpeak.net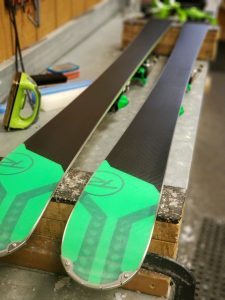 ---
Tuning & Repair Pricing
Service
Skis
Snowboards
Full Tune (Minor P-Tex, Base Grind, Stone Grind, Edge Sharpen, Hot Wax)
$75.00
$75.00
Light Tune (Base Grind, Stone Grind, Edge Sharpen, Hot Wax)
$55.00
$55.00
Stone Grind
$30.00
$30.00
Sharpen & Hot Wax (Side Edge Only)
$35.00
$35.00
Sharpen Only (Side Edge Only)
$24.00
$24.00
Hot Wax Only
$22.00
$22.00
Hot Buff Wax Only
$12.00
$12.00
P-Tex Major Gouges
$29.50
$29.50
P-Tex Minor Gouges
$23.50
$23.50
Edge Repair/Inch (No Warranty)
$12.00
$12.00
Binding Release Check & Adjustment
$35.00
–
New Binding Mount
$55.00
$18.00
Binding Re-Mount
$60.00
–
Binding Adjustment
–
$12.00
Heli Coil Inserts (Each)
$4.50
–
Pole Basket Install/Pole Cut
$6.50
–
Five Pack Full Tune
$300.00
$300.00
Nordic Skis
Full Tune (Sharpen & Tune Edges, Temperature Wax)
$35.00
Wax (Temperature Wax)
$18.00
Mount Bindings
$47.00
Be sure to ask about our Special package: Buy 4 Full Tunes at $300 & Get The 5th Free.
*Pricing subject to change. All pricing includes tax.
**Tuning supplies and wax are also available for purchase, starting at $6.